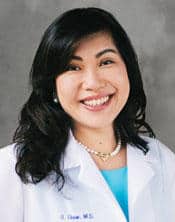 Undergraduate: University of London, London, United Kingdom
Medical School: Royal Free Hospital School of Medicine, United Kingdom-Summa Cum Laude
Internship: Miriam Hospital, Brown University, Providence, Rhode Island
Residency: Jules Stein Eye Institute, University of California Los Angeles School of Medicine, California
Fellowship: Cornea, External Diseases, Refractive Surgery and Uveitis; Francis I. Proctor Foundation, University of California San Francisco School of Medicine, California
Certification: American Board of Ophthalmology
Academic Appointment: Assistant Clinical Professor, John A. Burns School of Medicine, University of Hawaii
Dr. Tham prides herself in the genuine way she interacts with her patients and always treats every patient with the same level of care, detail, and surgical excellence as she would give to her own family. Ophthalmology is her passion and it shines through in every interaction she has with her patients. Dr. Tham has performed thousands of cataract and refractive surgeries, including many on colleagues and their family members. She is also actively training future doctors and ophthalmologists as an assistant clinical professor at the John A. Burns School of Medicine at UH. In addition to her busy practice and teaching schedule, Dr. Tham continues researching the latest innovations in techniques and technology through projects with leading academic centers.
Dr. Tham is also fluent in Chinese.
Website: www.pacificvisionhawaii.com
Phone: (808) 428-3288
Fax: (808) 312-6308
Email: info@pacificvisionhawaii.com