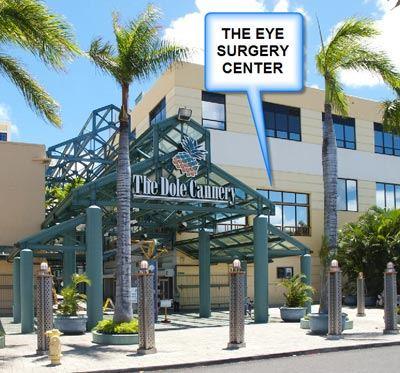 Located just minutes from downtown Honolulu on the second floor of the Shops at Dole Cannery, the Eye Surgery Center of Hawaii offers a comfortable, relaxing environment combined with a convenient location and ample parking. While you are at the center, your family member or friend who will be driving you can shop or dine at one of the many nearby stores and eateries.
We offer two parking locations for your convenience. The outdoor parking area between the Dole Cannery and Costco, accessed from Alakawa Street, is closest to our entrance. Validated parking is available for the covered parking structure above the theaters opposite the Dole Cannery building accessed from Iwilei Road.
To get to the surgery center from the outdoor parking area near Costco, walk to the main entry on this side of the building (pictured right). Take the stairs or the escalator on the left side up to the second floor. Turn right at the top and go across the bridge, our entrance is the first door you come to on your right. For elevator access to the second floor, take the hallway on the right side about halfway down the center corridor. Follow the signs to the elevator.
…
[mappress mapid="2″]