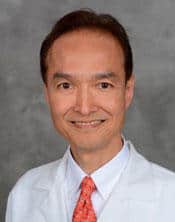 Undergraduate: University of Hawaii, Honolulu, HI
Medical School: University of Hawaii, John A. Burns School of Medicine
Internship: Internal Medicine, University of Hawaii, Honolulu, HI
Residency: Ophthalmology, New York Eye and Ear Infirmary, New York, NY
Fellowship: Vitreoretinal Disease and Surgery, Mt. Sinai Medical Center, New York, NY
Dr. Samuel Lo approaches eye disease with a special viewpoint because he is both an Optometrist and an eye surgeon.
Dr. Lo specializes in cataract, glaucoma, retinal diseases as well as general eye exam.  He has a special interest in diabetic eye diseases, macular degeneration from his role as Retina consultant in California, Hong Kong and Hawaii Kaiser Permanente Medical Group before entering private practice here in Honolulu, Hawaii.
.
Website: www.drloeyemd.org
Phone: (808) 949-2000
Fax: (808) 949-2900
Email: eyeseedr.lo@gmail.com