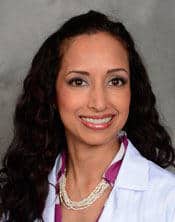 Undergraduate: Duke University
Medical School: Cornell University
Internship: New York Hospital at Queens
Residency: New York University – Manhattan Eye, Ear & Throat Hospital, Chief Resident
Fellowship in Pediatric Ophthalmology & Adult Strabismus:  Harvard Medical School's Children's Hospital Boston
Residency Director & Associate:  Department of Ophthalmology, Children's Hospital Boston
Instructor: Harvard Medical School
Rupa Krishnamurthy Wong, M.D. is a board certified ophthalmologist, with a specialty in pediatric ophthalmology and adult strabismus. She is originally from North Carolina, but was easily drawn to the beautiful island of Oahu. She attended Duke University on the prestigious Benjamin N. Duke academic leadership and National Merit scholarships. She graduated Magna Cum Laude with a degree in Biology and a minor in Religion. She earned her medical degree from Cornell University Medical College, winning numerous fellowships and awards. She then went on to a residency in ophthalmology at New York University-Manhattan, Eye, Ear & Throat Hospital, serving as Chief Resident in her final year. She completed a specialized fellowship in pediatric ophthalmology and adult strabismus at Harvard's pediatric hospital, Children's Hospital Boston, performing complex pediatric cataract, glaucoma, eye muscle and oculoplastic surgeries, as well as adult thyroid eye surgeries.
Dr. Rupa Wong is skilled in all of the ocular surgeries performed in infants and children. She is also trained in the techniques of adult strabismus surgery, including the adjustable suture technique to fine tune the surgery post-operatively and Botox injections for strabismus. Prior to joining Honolulu Eye Clinic, she was a full time faculty member at Harvard's pediatric hospital, Children's Hospital Boston, serving as Director of Residency Education in ophthalmology and Associate at Harvard Medical School. She has several publications and presentations in the areas of cataract, contact lens, refractive surgery, uveitis and pediatric ophthalmology and serves as an ad hoc review for the Journal of the American Association of Pediatric Ophthalmology & Strabismus.
Dr. Rupa Wong is board certified as a Diplomate of the American Board of Ophthalmology and a Fellow in the American Academy of Ophthalmology. She is also a member of the American Academy of Pediatric Ophthalmologists and Strabismus and has presented her research at the Association for Research in Vision and Ophthalmology and the Contact Lens Association of Ophthalmologists conferences. She is skilled in caring for both adults and children and enjoys treating adult ocular conditions such as cataracts, glaucoma, dry eyes, uveitis, diabetic retinopathy, as well as routine eye exams. Dr. Rupa is also certified in the injections of facial fillers (Juvederm, Restylane) and Botox for the eyes and face and is skilled in the techniques of eyelid surgery.
Dr. Rupa Wong (together with Dr. Jeff Wong) have a 2 year old son and are expecting their second boy in November.  In her spare time, she loves tennis and yoga. She studied advanced yoga in Madras, India and enjoys incorporating her former competitive gymnastic training into this relaxation technique. She is also learning how to surf.
Website: http://www.honolulueyeclinic.com